Schedule
Sunday Worship 
Calvary formerly offered two Sunday morning services (at 8:30 a.m. & 11:00 a.m. in the sanctuary).  Currently, we are offering one 11 a.m. outdoor service and one 11 a.m. online service.  The flow, hymns, and liturgy are traditional United Methodist for each service and Holy Communion is offered each Sunday at 11 a.m.
The atmosphere at Calvary is warm and friendly.  We are glad you've chosen to worship with us!  
In order to keep one-another safe the following guidelines are being observed for Outdoor Worship:  
Masks must be worn by all in attendance.  The ushers will not allow anyone without a mask into the parking lot.  Please consider the covenant we all have to live in community together at Calvary and to keep each other safe. 
Dress – As the service is outside, please feel free to dress in clothing that is comfortable for the weather.
Rain showers. The service will not go on if it is raining – we will notify all who registered as early as possible, though please check the weather before you leave.  
Parking in the church's lot is generally limited, and is closed to vehicles, while we hold the outdoor service (as worshipers sit in the parking lot).  Parking is available next door at Melwood  Resources (750 23rd St S, Arlington, VA 22202) and on the street.   If able bodied, please consider walking or biking (a bike rack is available on premises).  
Outdoor Worship space is limited to 60 people. We are using Eventbrite as a reservation system.  Each week a registration link is posted on our website.  Anyone who would like to attend the 11 a.m. service must register no later than noon on the Friday prior to a given Sunday service.  A key component of the reservation system is acknowledging the health assessment. Each individual must register, though a parent can register for a minor child.  Every person attending will need to bring their ticket – either printed or on their phone.  Additionally, we ask that families send a note to CalvaryHCT@gmail.com to alert us of a group arriving together.
Space will be available on a first-come, first-serve basis. Upon check-in, you will be directed by the ushers to an open space. Though there is ample walking room between the spaces, we want to minimize passing each other.
Children are always welcome and are currently asked to remain with their families in worship.  Please see below for more information.  
Please allow extra time to arrive.   If you are coming as a family, plan to arrive together. There are two available entrances – the Grant Street and 24th Street entrance.  Ushers may direct you to the other entrance if one has too long of a line. Please bring your own chairs or blankets – umbrellas cannot be accommodated as they will impede the sightlines of others.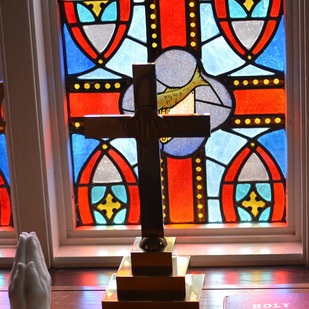 Our COVID Worship Schedule:
11 a.m. Outdoor Worship with Holy Communion
11 a.m. Online Worship
Our regular Worship Schedule:
8:30 a.m. Worship with Holy Communion
9:45 a.m.  Learning for All Ages throughout the facility
11:00 a.m. Worship (with Holy Communion on the first Sunday of the month)
Nursery care is available for both the 8:30 & 11 a.m. worship services
We serve
Holy Communion
Holy Communion is currently being served every Sunday during the 9 a.m. outdoor worship.  The pastor officiates wearing a mask and gloves while consecrating the elements.  As worship concludes each attendee is invited to take one of the individually wrapped communion sets.  
 can T For kids
Sunday Children and Youth Worship  and Activities
There are meaningful activities for children at Calvary every Sunday!
During our normal schedule these are available from 8:30 a.m. through 12 noon each week.  Some children come to our Children's Ministry for one hour or for the whole morning. All ages are warmly welcomed in worship. 
A wide array of additional resources are available for our children and youth.  To view these resources click here.  
For more information please contact our Family Ministries Director, Beth Posey, at familyministries@calmeth.org 
We Welcome you
What to Expect During Worship
Our Vision is to make God's love real, with Calvary's worship opportunities, buildings, and programs accessible and welcoming to all persons. We welcome those seeking God's comfort, guidance and healing in a warm and welcoming environment.
No Pressuring
First, we promise you won't be embarrassed or pressured to give money or to join the church, so relax and focus on experiencing worship.
Singing
We'll be singing songs to express our love for God. The words are within the Hymnals, that are available in the pews, with the page numbers announced and printed in the bulletins.
Sacraments
You may also see Christian sacraments such as baptism or communion, and we'll be sure to explain what they mean so you won't feel left out. Holy Communion is open to all people, you need not be a member of any church to participate.
The Message
Our pastor will share a relevant message (click here to hear recent sermons), to enable you to discover new truths that help you see life from God's point of view. We encourage you to use your Bible or the pew Bible to follow along.
How Long?
We'll be done in about one hour so you'll be ready to go pick up your little ones, socialize at our Coffee Hour, meet new friends for lunch, or just head home.
Be Comfortable
You'll see all sorts of attire at our services. Many people wear "business casual," however a number of others will wear jeans. We invite you to come dressed comfortably for you.
Children
There is a special children's moment at the 11 a.m. service followed by an opportunity for the children to either return to their family or participate in Children's Sunday School (also available at the 8:30 a.m. service).
Office Hours
Monday-Friday
9 a.m.-12 p.m.
12:30 p.m-4 p.m.