Children's Ministries
Calvary United Methodist Church welcomes all children and enjoys the laughter and joy they bring to our church family. We are here to help families share with their children with a strong sense of God's love, and to develop a Christian faith that speaks to all aspects of their lives as they grow, as well as to create a Christian community of support and love.
Our children's ministries are led by Beth Posey (familyministries@calmeth.org) who helps creates a creative, joyful, and safe environment for those from birth to 5th grade. Activities include meaningful Sunday morning programs, Summer Camps and special programs, including summer family mission opportunities and Vacation Bible School. 
PLEASE CLICK HERE TO ACCESS THE SUNDAY SCHOOL RESOURCES
Normal Children's Sunday Schedule 
8:30-9:30 a.m. – Nursery and Sunday School in Children's Area (during worship)
9:30-10 a.m. – Children's Choir in Memorial Hall (under the sanctuary)
9:45-10:15 – Music Makers 1 class for infants and toddlers (Skidmore Building)
10:20-10:50 – Music Makers 2 class for 4year olds and up (Stage of Harris Hall)
9:45-11 a.m. – Sunday School in Children's Area (Skidmore Building)
11 a.m. – Children's Sermons in Sanctuary
11:15 a.m.-12 p.m. – Children's Church in Children's Area (Skidmore Building)
A list of Parenting Books suggested by the Family Ministries of Calvary can be found here.
Whole Family
Family Ministries
Nursery
Our Nursery enjoys staff and volunteers who have completed background checks and are in compliance with our Safe Sanctuary Policy support infants and toddlers development through play. 
Elementary Summer Camp
If you would like more information about how you can spend a little time and enjoy some of the CRAZY GOODNESS OF SUMMER, please contact Maggie Posey at mpoe004@gmail.com or (703) 892-4112.
Sunday school
Each Sunday, lessons center on the sermon series and scripture references. Students are encouraged to think deeply about the Bible lessons through discussion, activity and experiences. Community is created by enjoying time together and discussions guided by adults. Snacks are provided between 8:30 and 11:00 services, and sometimes as part of the lessons.
Music Makers 1 and 2
Each week, young musicians are encouraged to play with instruments, sing songs and join together in learning music with Amy McCarthy.  Music Makers 1 from 9:45-10:15 in the preschool building, is for infants and toddlers and their parents (as they like).  Music Makers 2 from 10:20-10:50 on the stage in Harris Hall is for four year old through First Grade students.  There is no cost for this opportunity.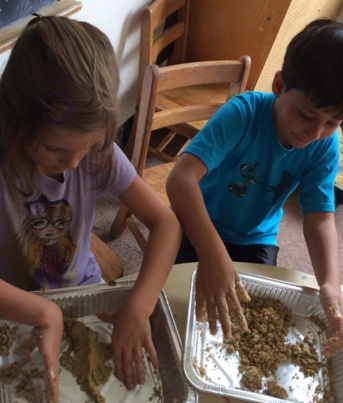 Extra Activities
Triple Threat
Triple Threat is our monthly hang out for third through sixth graders. Kids come together for the three S's: Snacks, Silliness, and Service. After free play time in our basement filled with games, these youth participate in planned team building games and character building activities, followed by a time for service. Our service project changes monthly. Email Maggie Posey to get involved at mpoe004@gmail.com.
For Parents
Parent's Afternoon Out
Calvary United Methodist Church offers a Parent's Afternoon Out one Saturday afternoon every other month.  The fee is $20 for one child or $40 for 2 or more children in a family.
PLEASE send a meal (please no nuts of any kind or nut butters)
PLEASE apply sunscreen (when appropriate)
Who staffs the event?
We are people who work in our preschool and church nursery program. At least one person on site has first aid and CPR training.
Do parents send food?
Yes – but we'll give a snack! Please be sure there are no nuts or nut butters in the meal.
Can siblings/friends be together?
DEFINATELY!
Will the children go outside?
Definately! Unless it's raining!
Is this open only to preschool/church families?
It's an outreach of Calvary to the community! Invite friends!
When's the next PAO?
Check the website for dates.
Office Hours
Monday-Friday
9 a.m.-12 p.m.
12:30 p.m-4 p.m.