Tours are available by appointment only. Contact familyministries@calmeth for more information.
Calvary Children's School Mission is to provide the highest quality preschool education in a Christian environment to the children of our community. Founded in June 1998 by the Calvary United Methodist Church, we are a not-for-profit corporation, fully licensed by the Commonwealth of Virginia, voluntarily monitored by Arlington County.  Calvary also participates in the Virginia Quality Program.
Our program is structured to help children learn through play. By modifying the environment, materials, and experiences, teachers expand awareness and scaffold learning for later years. Our program offers diversified opportunities for our children to develop positive feelings and attitudes about themselves and others. It is our goal to help families develop happy, adjusted, secure individuals in a climate of freedom, with discipline and affection.
Our school operates Tuesday, Wednesday, Thursday and Friday, from 10am to 2pm. Before care is available from 9-10am and after care is available from 2-3:30 and Monday care from 9-3:30 for an additional fee.
Children do not have to be toilet-trained to attend. There are one, two, three, and four day options for all ages.  Children of all religious faiths and ethnic backgrounds are welcome. Scholarships are available.
Adults who wish to visit should e-mail  the Director for registration information. Please contact the Director for more information.
Contact Details
Calvary Children's School, Inc.
2315 S. Grant St.
Arlington, VA 22202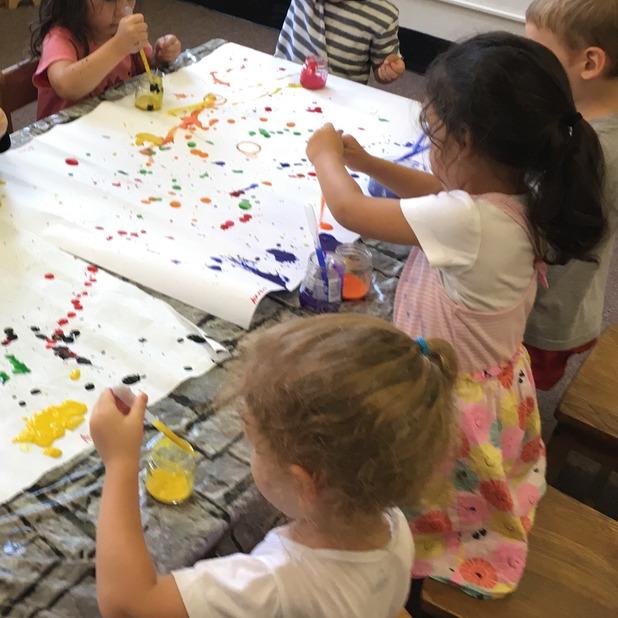 How to reach our team
We are located on the border of Arlington and Alexandria in the Aurora Hills neighborhood, on the corner of Grant and 23rd Streets. Our playgrounds are the two closest county parks — Nellie Custis and Nina parks 
You can also visit our resource site at http://calvarychildrens.weebly.com/
Tours are available by appointment. 
Our Policies 
Additional Information
Registration
Please PRINT OUT the registration form and letter. Families MUST send the registration form in hard copy to the school. We cannot accept electronic copies, per our state and county licenses. Please be sure to complete both sides of the form, including emergency contacts and health information. If your child enters our school, this is your official record on file.
Registration begins February 1st. By the beginning of March, we will contact you about availability. A non-refundable registration fee is required for your application to be complete. A waiting list is maintained for all age groups. Siblings and those on the wait list have preference in placement. If you would like more information, please call (703) 892-4112 or e-mail Beth Posey at familyministries@calmeth.org
Calendar
Our calendar runs September through June, with summer options most years. The school calendar  generally follows Arlington County for Christmas, Thanksgiving and Easter breaks, and for snow and weather-related closings. Please check Arlington's website for emergency closings.
Class Size & Ratio
Our staff-to-child ratios are a priority at Calvary Children's School. We enjoy a 1:4 ratio for our 2 year old classes, and a 1:8ratio for our 3 year old class and a 1:10 ratio for our 4 year old classes.
Parents and teachers communicate daily at drop off and pick up times. Conferences may be requested at any time.
Calvary Children's School admits students of any race, color, national and ethnic origin to all the rights, privileges, programs, and activities generally accorded or made available to students at the school. It does not discriminate on the basis of race, color, national and ethnic origin in administration of its educational policies, admissions policies, scholarship and loan programs, and athletic and other school-administered programs.
Our Staff
Teachers & Helpers 
Our staff includes a director, lead teachers, assistants and aides. A teacher and an assistant teacher work with each classroom. Our staff is selected because of their unique abilities to nurture young children. Volunteer participation is encouraged and welcomed! Our families are encouraged to share their experiences and abilities with our school. As a parent with a child in the program, you are welcome to visit at any time. We ask that written permission be given before any child is released to someone other than a parent or legal guardian.
Program opportunities are provided for self-expression through arts, music, dance, science, verbalization and other indoor and outdoor activities that are self- and teacher-directed. A snack is provided by the school. Parents provide lunches for their children. 
Parent Information
Useful documents for parents:
Please make sure this form is filled out completely by you and your pediatrician before your child begins preschool with us. This forms need to be stamped and signed by your physician and a yearly tuberculosis screening must be included.
Arlington County 

School Calendar
Our handbook for families on the policies and procedures for our school is available from the director.
Office Hours
Monday-Friday
9 a.m.-2 p.m.